More kennel and dog house pics...

Our old Edmonton kennels.... The Great Kennel Reno
Kennel photos from years past.... Past Kennels

People often ask for photos of how I set up my puppy pens
and how I build my dog houses.
So, here is how I set up my puppy pens and about my dog houses.
First.... Puppy Pens.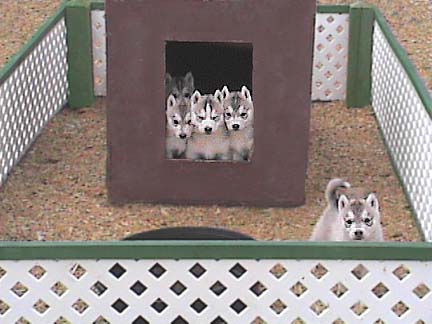 Ok, now here is where everyone says.. aaaaaaaaawwwwwww!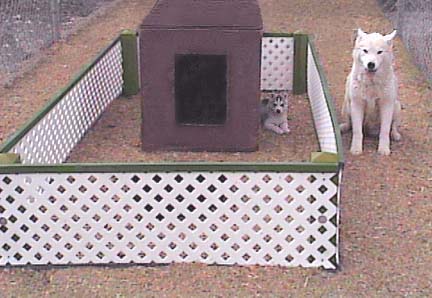 The idea is to keep babies from getting too far from the dog house and getting lost, or near the chain link.
Momma gets a break and the puppies and the babies can still see what is going on.
The pen is 4 feet x 8 feet and is 16 inches tall.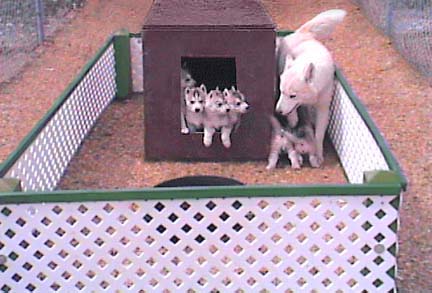 The pen is made of one 4 x 8 sheet of the small square plastic trellis.
The sheet is cut length wise into 3 strips, 16 inches wide (and of course then, 8 feet long).
One of the strips is cut in half to make the 2 end pieces (4 feet long x 16 inches wide).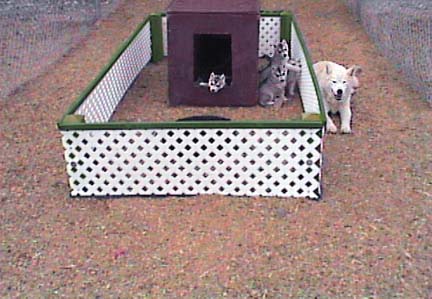 I bought the green capping for the top and bottom
and used PL 400 to glue it on.
I used one 4 x 4 cut to 18 inch lengths (so I could cut in the cute little pyramid cut tops) for the sides.
The plastic is directly screwed onto the 4 x 4 with large washers so the plastic does not crack.
Because it is plastic, the pen is light weight, easy to clean/sterilize and never needs paint.
I can easily move it or take it apart and they have no problem with winters and snow etc.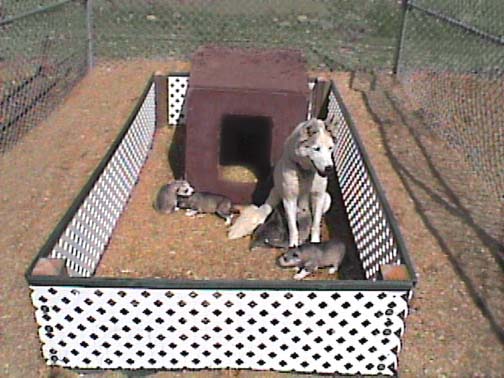 Ember in our first "puppy pen"
Until the puppies are about 4 weeks old the dog house is pushed to the rear. After that the house is set about a foot away from the rear so they can go around it. We found that the babies sometimes got "lost" going around the back when they were first venturing out of the house.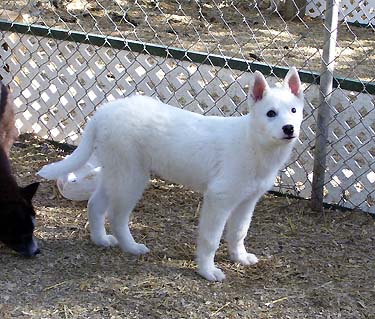 The panels also work well as a protective barrier.
Second... Our Dog Houses.
We have tried a lot of houses. Insulated, hinged, peak roof, flat roof....
all things considered, this is what we have concluded.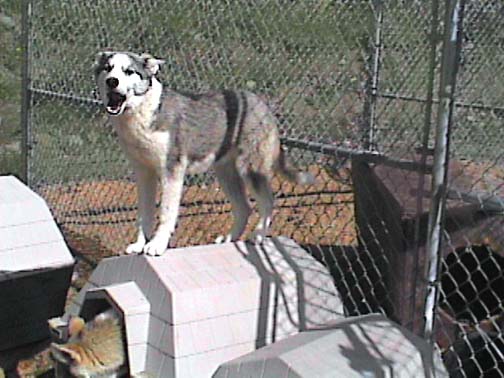 First we firmly established that Ceemee doesn't this type of house.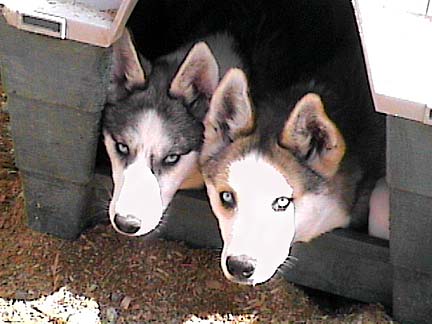 We have a few of the plastic barn style houses. We found that they did not last, they cracked, the white got muddy immediately, the door was so big all the heat escaped in the winter and the threshold so low that it did not hold in the straw bedding.
They very much preferred the flat top house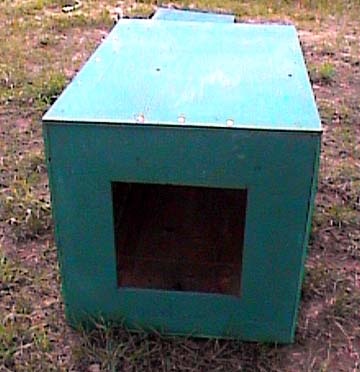 s.
This house is 2 x 2 x 3. It is made from a single sheet of plywood. I tried Chipboard but it did not last, especially if it rained a lot. I used 3/8 for these houses, they are standing up petty well, but 1/2 inch would have been better.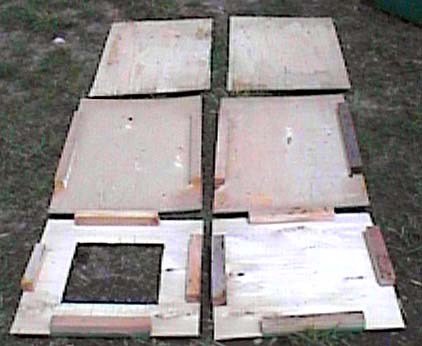 I cut a 4 x 8 sheet up the middle length wise. Then I cut the 2 x 8 strip into two 3 foot lengths leaving a 2 foot piece.
I made the door using the table saw (Ya, I know it isn't the smartest idea, lol!)
The interior frame is 2 x 2 . For a partial frame (works petty well) you will need 2 of them. For a full frame you will need 3.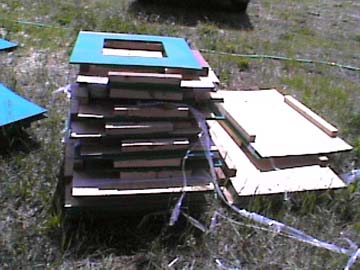 I made about 20 of them and bundled them into units with the frames already attached. Each unit was wrapped and once done I had a whole kennel of instant dog houses that I could easily transport and assemble as needed.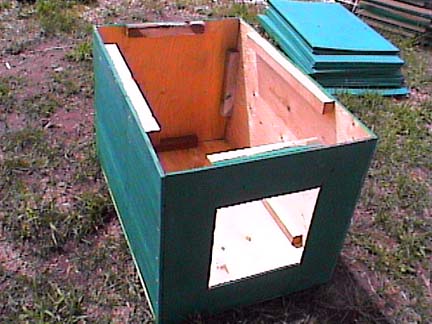 By putting small blocks on the interior corners of the lids I could have a removable lid.
I put hinges on some of the lids (1/2 inch would have been better) and others I screwed on permanently.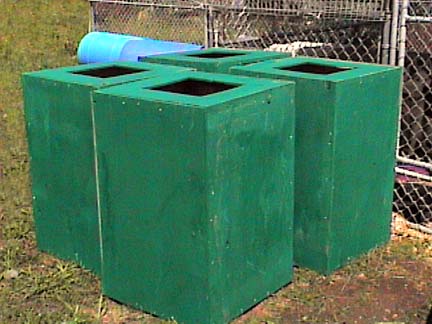 By pre-painting the houses they were ready at any time and easy to paint in the shop.
I just laid them out and rolled them en mass.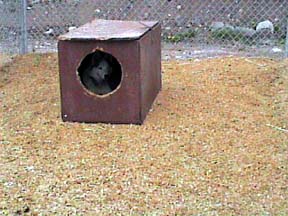 Here is a 2 x 2 x 4 house. Note that I made the hole high so that bedding stays in.
The hole was traced off the lid to a 5 gal bucket.
Barrel houses.....
The barrel houses were first shown to me by a vet. It was what they used for their dogs.
The houses are about 2 x 2 x 4, never rot, do not need paint, do not crack, cant be chewed or destroyed. They are light weight but TOUGH, easily sterilized and cleaned. Also my dog do lay on top of them! Roadie walks his about like a circus dog, very cool. I buy mine new so I know no chemicals have ever been in them. The trick is to get them from the manufacturer. They are VERY reasonable vs buying from a store. Of course if you can find them for free from a food company, then that is even better.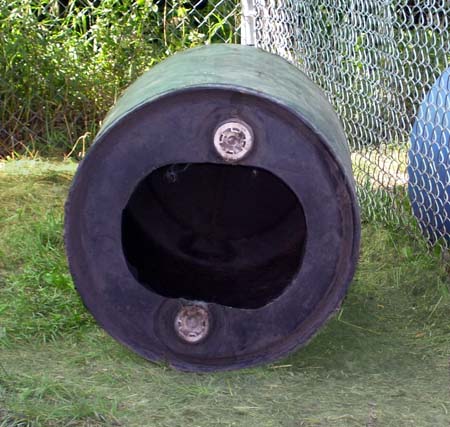 I looked at rain barrels, but those were far too expensive, much much more than the sealed units. I just used a jigsaw to cut the openings. The door on the black one is too big. I did them a little too large. You want the dogs to get in and out easily but you don't want to loose heat or bedding.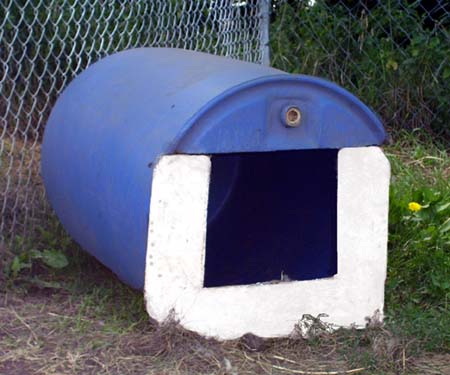 This house came from another musher. He used Puckboard on the face (pretty much unchewable) and the square bottom helps it to not roll. Rolling is actually not as much of a problem as you would think.
You can make cradles for them from two 4 x 4s or gardening ties and a couple pieces of chain or wood strapping. You can also simply screw the wood right to the barrel. The right pallet will let you knock out a slat or two and then the barrel has a cradle and a deck. Or, you can just let them roll. If you live in a very wet area you can drill holes in them to let water drain out. They will hold water VERY well!.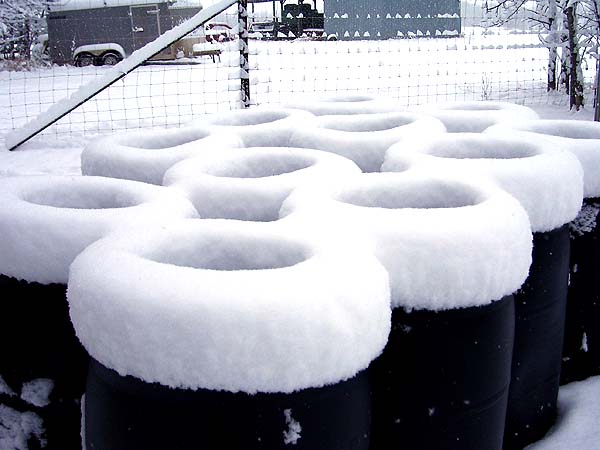 I just put these pics in because they are very cool.