Flower
Sept 16
2002
I can't find Flower's pedigree right now, I will post it as soon as I can. Both of her parents are out of Bob Bourgette's kennel.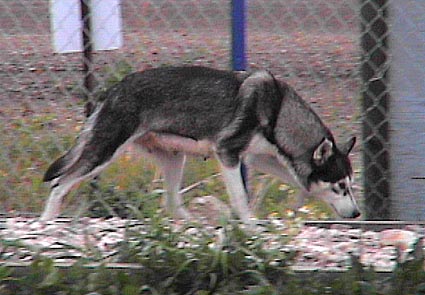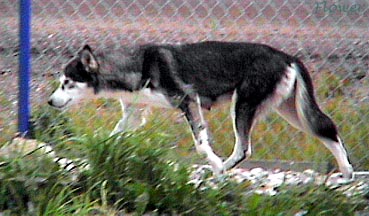 These photos are the only ones I have of her, they are from this morning. I thought they showed her long stride (she was just trotting around the yard), her long neck, good body proportions, excellent angles and moderate bone. She uses everything she has and really opens her angles. A very honest dog.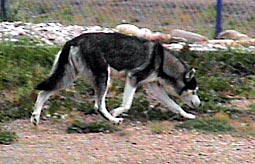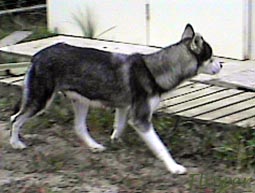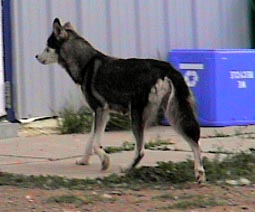 Flower's strengths are that she loves to run and is well built for it. She will happily go out front, although she likes to take us all over (she don't need no silly trails!). She is very Seppala with tough feet, great structure and heart. I would fault her in that she is too small for my teams (my guys are big). Her kids can be a little timid like the Seppala dogs often are, but they are loving, loyal, and open up as they get older. I prefer a really boisterous outgoing dogs because I show, so I need to have a temperament different from racers. Flowers temperament is very very easy, loving, cuddly, fast to get on the couch, non fighter, non digger non escaper, BUT she is great on sled, and takes no crap from anyone, is not easily intimidated. She adapts very easily, eats and drinks well and travels like a dream.
Bart
Bart's lineage is very old and primarily racing although some of the dogs were shown and he does have some very very old Innisfree in him. He has run sprint and mid distance, his kids are on sprint, mid and long distance teams. Bart has never thrown a non pulling pup and if we need new leaders we breed him. His temperament is dominant, but devoted and hard working. He rules the roost but is never petty or mean, great with babies. He will tell a human to "screw off" or will boss them if they are too soft, but he will not take being bullied, yet he is safe and gentle and patient with children In the kennel he takes no crap from anyone. We use him to raise the babies. We often leave him and the female together throughout the breeding/pregnancy/whelp/weaning and remove the mother, not Bart, when the pups are ready for homes. He is one of the most intelligent dogs I have ever owned and trains very easily. He travels very very well, lives to run, settles very quickly and is the first on the couch. He is a great eater/drinker and adapts to anything. He is not a fretter or worrier. He ran lead for many years but now is happier in swing.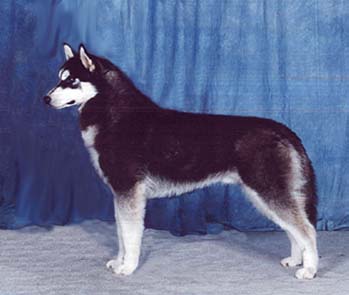 Bart's strengths are his heart, drive, adaptability, devotion and amazing feet. He is fairly well built, however I would prefer him to have a better forearm and shoulder layback. His coat is good (Flowers is better) and he has no problem with cold at all. He is about 11 years old now and we still run him competitively. At this years Canadian Nationals Bart won just about everything in the veterans and sled dog classes. He is a good eater and drinker, very healthy quick recovery.
The Babies
I took these this morning. I will seperate the babies and take a few more. I may have some for you. I just sold a Bart X Flower daughter, bred back to a Bart son (Gunner, very large fantastic runner who began in lead at 9 months old!). It was not a planned breeding, by the way, but it should be good. She had 4 pups, I believe, a few days ago. I will ask about that litter.
I know these photos show nothing, but I will get better photos up ASAP.
Other Flower kids
These are Flower daughters between 1 and 1.5 years old. The Blacks here are out of Bart, Meeka (grey) is full Seppala.

Meeka and her friend Luca
Meeka, Luca and Echo were sold about 3 weeks ago.
I will update this page as soon as possible
.
.
.
.
.
.
.
..
.
.
.
.
.
.
.
..
.
.
.
.
.
.
.
..
.
.
.
.
.
.
.
..
.
.
.
.
.
.
.
..
.
.
.
.
.
.
.
..
.
.
.
.
.
.
.
..
.
.
.
.
.
.
.
..
.
.
.
.
.
.
.
..
.
.
.
.
.
.
.
..
.
.
.
.
.
.
.
..
.
.
.
.
.
.
.
..
.
.
.
.
.
.
.
..
.
.
.
.
.
.
.
..
.
.
.
.
.
.
.
..
.
.
.
.
.
.
.
..
.
.
.
.
.
.
.
..
.
.
.
.
.
.
.
..
.
.
.
.
.
.
.
..
.
.
.
.
.
.
.
..